Vicky Almazidu is a jazz singer, educator, recording artist, and lyricist.
She was born in Bulgaria , although her family is Greek. She graduated at the Bulgarian State Music Academy , majoring in Jazz Performance. Since 1987 she has been living and working in Greece , where she has qualified as an educator, a voice instructor with 25 years of experience , and the founder of the 1st Jazz Vocal Class, held at the Synchronous Conservatory of Thessaloniki, Greece. Two of her most outstanding students have received scholarships and are now studying at Berkeley College , Boston .
Besides her legendary career as a voice teacher, Vicky also leads a brilliant career as a jazz singer and recording artist. She has participated in a number of music festivals and has performed in the best jazz clubs in Greece and Bulgaria .
Vicky Almazidu works with internationally known Greek jazz musicians like Grigori Simadopoulos, Nikos Salonitis, Nikos Psofogeorgos, Oleg Chaly, Hristos Gremenaglou, Kostas Maginas. She works also with virtuoso pianist and composer Georgios Kontrafouris.
She has collaborated with jazz legends such as Milcho Leviev, Airto Moreira, Billy Cobham, Peter Erskine, G eorgios Kontrafouris, Mishel Lambert, D. Vassilakis , Valeri Kostov, Theodossi Spassov, Yiotis Kiourtsoglou, Antony Donchev, Oleg Chaly, and many more.
Vicky Almazidu has released 2 albums : the first one, entitled "Dreams" was released in Bulgaria , and the second, entitled "Quiet love" was recorded in collaboration with the legendary Milcho Leviev. She has four sessions recorded for the Jazz Time program of the Bulgarian National Television (BNT), together with Milcho Leviev , Georgios Kontrafouris, Angel Zaberski Jr., and Vesko Koichev. BNT has shot a film titled "Made to Dream" regarding aspects of her life, which has been broadcasted several times.
In 1995 she founded the " Jazzoo" quartet , performing at several concerts for five years. From 2000 onwards, she appears with the TRS ( Thessaloniki Rhythm Section band).
In the last few years Vicky Almazidu and her band, Lydian Riff , have been guest artists at the biggest Bulgarian jazz festivals: Sofia Jazz Peak, Plovdiv Jazz Evenings, Bansko, Apolonia and Bankia.
In 2002 Vicky Almazidu's album "Dreams" was released. The CD represents a unique compilation of the singer's own arrangements of authentic Bulgarian and Greek folk melodies, developed into modern jazz pieces and songs. Critics highlighted the album as one of the 2002 top music events. During the same year she started working with Milcho Leviev, the two of them appearing in numerous concerts in Bulgaria and abroad ( Festival Bankia, Sofia , Bulgaria Vicky Almazidou and "Lydian Riff"
/Dimitria Festival, Thessaloniki , Greece ,  Vicky Almazidou, M.Leviev and Big Band,
/Music Jam Sofia , Bulgaria , Music Hall, Vicky Almazidou and Milcho Leviev, recital)
In 2003 , at the Dimitria Festival in Thessaloniki, Greece, she performed together with Billy Cobham, the renowned jazz drummer, Milcho Leviev , and Yiotis Kiortsoglou from Human Touch.
Her second album, "Quiet love" was released in 2004 and received the 2005 Golden Feather Award for contribution to Bulgarian culture . The CD features 11 songs and compositions by Milcho Leviev . The most prominent Bulgarian jazz musicians took part in the recording. The album was initially presented at the Sofia Jazz Peek 2004 ( Bulgaria ) and then in Thessaloniki , Greece . Their performances at the Dimitria (Apolonia Art Festival) in Thessaloniki and their concert at "Bulgaria Hall" during Sofia Music Jam received considerable acclaim.
In 2005, she took part in Jazz Peak Festival, a Tribute to Radoi Ralin .
In 2006 , Vicky Almazidu had her Balkan Tour with the American drummer Peter Erskine, with Milcho Leviev, and with Yiotis Kiourtsoglou. The same year she took part in Jazz Peak Festival , and gave a tribute concert in "Bulgaria Hall" with the participation of the Classic FM Radio Orchestra and some of the best Bulgarian jazz musicians, conducted under Milcho Leviev. She also participated in Jazz evening festival ( Bulgaria ), with the group "Human Touch" in Greece .
In 2007 she had performed a lot of concerts:
July , Smolian , Bulgaria , with M.Leviev and band.
August , Bansko , Bulgaria , V. Almazidu, M. Leviev .
August , Nish , Serbia , V. Almazidu, M.Leviev and band.
September , "Jazz Evnings festival" Plovdiv , Bulgaria , with Airto Moreira, and Milcho Leviev.
Vicky is also teaching Master classes* at the New Bulgarian University ** and performing with Milcho Leviev and other legendary jazz artists, all over Europe .
For 10 years Almazidu has been a jur y member at many international vocal festivals and competitions.
She is currently working on her third album, inspired by her collaboration with Milcho Leviev. As in "Quiet Love" , she is singing Milcho's masterful and complicated compositions in her unique style. She is also working on a project of jazz standards with ethnic/Balkan influences.
Vicky Almazidu – http://www.myspace.com/
* Master Classes belong to a form of teaching through which New Bulgarian University gives students and professional performers the chance to learn from and work with world-famous artists. Vicky Almazidu builds up something much bigger: an understanding of music as a perception of the world
** is an institution founded on the idea of liberal education. The University initiated important reforms in Bulgarian higher education. It has introduced a credit system, degree programs, admission based on General Education Test, and lifelong learning opportunities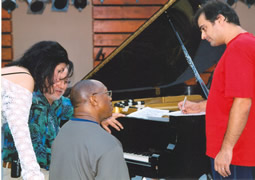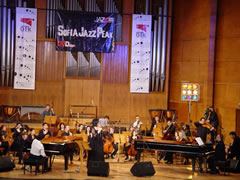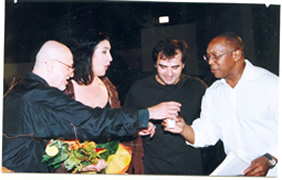 In 2003, at the Dimitria Festival in Thessaloniki , Vicky Almazidu performed together with the greatest jazz drummer Billy Cobham, Milcho Leviev and Yiotis Kiortsoglou from Human Touch.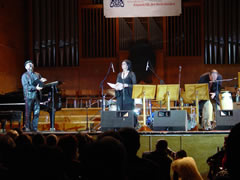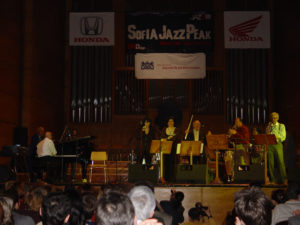 Jazz Peak 2005, Concert In Memoriam of Radoi Ralin – Milcho Leviev, Simeon Shterev, Ljubomir Denev, Badema, Ventzi Blagoev, and Mitko Semov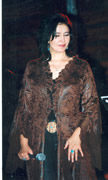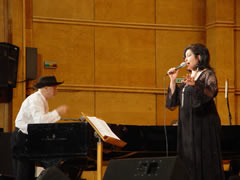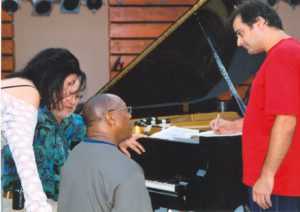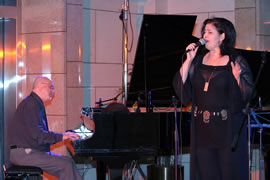 April, 2006 – Milcho Leviev, Vicky Almazidu and Peter Erskin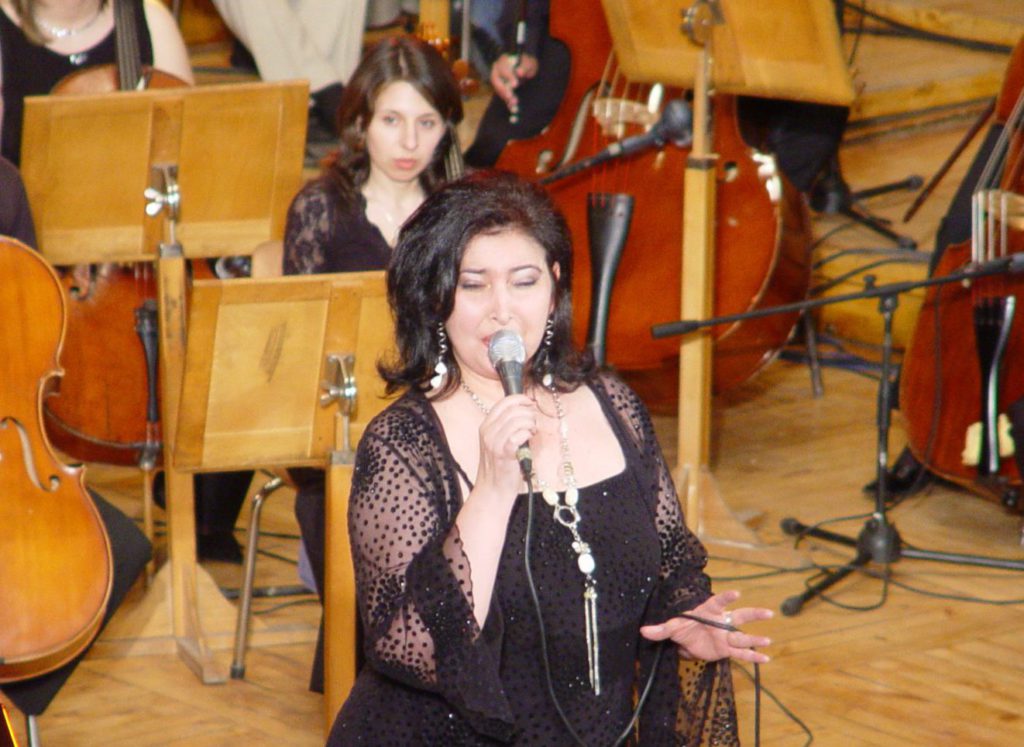 Classic FM – Concert in Bulgaria Hall with Milcho Leviev and Valeri Kostov